Infighting among Republicans in the House of Representatives over spending bills has brought the United States to within 10 days of a government shutdown, creating uncertainty among the hundreds of thousands of federal employees and contractors who would be affected.
Unless Congress is able to pass the 12 appropriations bills that fund the government - or can agree on a stopgap measure providing temporary funding - the authority of many federal agencies to spend money will expire at midnight on September 30.
At the heart of the dispute is the decision by some of the most right-wing members of the House to repudiate an agreement that House Speaker Kevin McCarthy negotiated earlier this year with President Joe Biden to avoid a default on the nation's debt. A handful of House Republicans want to cut spending below the amount agreed to in that deal.
They are demanding significant cuts to domestic spending, as well as to the aid that the U.S. has been providing to Ukraine in its fight against Russia's invasion. Because McCarthy's party has control of the House by only a handful of votes, defections by even a few members of his party mean that he does not have the majority needed to pass the appropriations measures.
McCarthy in a bind
It would be possible for McCarthy to bring appropriations bills to the floor and pass them with support from House Democrats, but the hard-right element of his caucus would regard that as a betrayal, possibly leading them to call for a vote to strip McCarthy of the speakership.
FILE - U.S. House Speaker Kevin McCarthy speaks with reporters at the Capitol in Washington, Sept. 14, 2023.
As part of the deal that secured his election as speaker, McCarthy agreed to be subject to a rule under which a single member of the House can force a vote on a motion to strip him of the job.
Arriving at the Capitol on Wednesday, McCarthy signaled to reporters that he has not given up hope of reaching a deal to avoid a shutdown.
"It's not September 30 - the game is not over," he said.
What a shutdown means
The term "government shutdown" is somewhat misleading, because in the event of a funding gap, much of the federal government will continue to operate. Services deemed essential to public safety and the national defense will not lapse. Additionally, government activities funded by multiyear appropriations will be able to continue. This includes, for example, many of the infrastructure projects funded by legislation such as the Inflation Reduction Act.
However, even though much of the government would continue to operate, federal workers would not be paid. That includes members of the military. A law passed after the most recent serious shutdown codified the practice of paying government employees back for their lost wages once a shutdown ends. However, experience has shown that forcing federal employees to work without receiving paychecks can be extremely disruptive to their personal economic well-being.
Members of Congress would remain on the job, as would their essential support staff, but many nonessential employees of Congress would be furloughed, along with many of the employees of government contractors that help keep Capitol Hill functioning. Unlike federal employees, the employees of contractors are not guaranteed to receive pay lost during a shutdown.
The federal court system would continue to operate for at least a while because it would be possible to draw on previously appropriated funds and ongoing fee income, and to reallocate money earmarked for things like nonessential travel.
FILE - Union members and other federal employees stop in front of the White House in Washington during a rally to call for an end to the partial government shutdown, Jan. 10, 2019.
Off-ramp possible
Government shutdowns have occurred multiple times since the 1980s, but most of them have been short, affecting one business day or less. Four have lasted longer than a single business day, the most recent being in 2018-19 when the government was partly shut down for 35 days. This shutdown was partial because several appropriations bills had been passed.
Congress has also walked to the brink of a shutdown many times, only to avoid it with a stopgap funding measure known as a continuing resolution or a last-minute spending deal.
Max Stier, president and CEO of the Partnership for Public Service, told VOA that even short and narrowly averted shutdowns have an appreciable impact on the functioning of the federal government because resources have to be reallocated to prepare for the possibility of ceasing operations.
"It's not like flipping a switch," Stier said. "Everybody knows, if they're involved in a complicated operation, to close it down not only is difficult, but starting it back up is incredibly difficult and costly, too. So a one-day shutdown has real cost and consequences, even though federal employees will do everything they can to ensure that the harm is not felt by the public."
'Increasingly painful'
Stier said that while the public might not notice a brief shutdown, when government operations cease for a longer time, their absence becomes increasingly obvious.
Passport applications are not processed. Small Business Administration loans are not made. Children cannot be enrolled in the federal Head Start program. These and many other unavailable services begin to take a toll on individuals and the broader U.S. economy.
"It becomes an increasingly painful and costly proposition," he said. "In the last instance, we saw 35 days of a shutdown. The estimate was that billions of dollars were lost in the economy, and I believe that the costs were probably underestimated."
Federal workers stressed
The federal workers who would be most directly affected by a government shutdown are frustrated with Congress, said Everett Kelley, national president of the American Federation of Government Employees.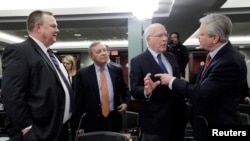 FILE - Sen. Jon Tester of Montana, Sen. Dick Durbin of Illinois, then-Sen. Pat Leahy of Vermont and Sen. John Hoeven of North Dakota talk as lawmakers gather to negotiate over a U.S. government shutdown and border security, in Washington, Jan. 30, 2019.
Kelley told VOA that, as with the broader American public, many federal employees live paycheck to paycheck and would suffer if they were suddenly left unpaid.
"Our members are frustrated. They are nervous. They are wondering and worried about, 'OK, how am I going to pay my bills? How am I going to make sure my family is fed?'" Kelley said.
"Federal workers go to work every single day and do their job. We need Congress to do their job," Kelley said. "Because a government shutdown will impact not just federal employees, but our communities. We're asking Congress to get this job done."
Ukraine funding
Congress briefly considered a continuing resolution on Tuesday, before it was pulled from the floor out of concern that it lacked the votes to pass. The resolution did not include supplemental funding for Ukraine that the Biden administration has requested.
While a majority of members of Congress support continued U.S. aid for Ukraine, a small number of mostly Republican lawmakers are reluctant to send more money to Kyiv, making the supplemental funding a complicating factor in the discussion of the spending bill.
Several House Republicans who support continued aid for Ukraine told VOA on Wednesday that it would be necessary to consider Ukraine funding as a standalone matter, not as part of the discussion of how to fund the government.
"We need to figure out our bigger issue first with funding our own Defense Department and funding other agencies, and then we can talk about a supplemental," said Republican Mike Gallagher.
"Putting Ukraine funds in a [continuing resolution], I don't think that's the right way to go. We're not going to get it passed," said Republican Rich McCormick. "I think it's a separate issue that needs to be addressed by adults. We need to have a very complex conversation about the history of Ukraine, where the money has already gone, and the success [Ukraine has] already had, going against the third-largest army in the world."
Kateryna Lisunova, VOA Ukrainian Service congressional correspondent, contributed to this report.